Welcome!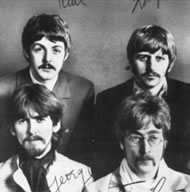 Please use left menu to navigate through the site in order to access:
- Comprehensive UK and US discographies with album covers, additional information, reviews and comments.
- Complete song index with the lyrics. Different takes, demo and live versions, unreleased songs and songs for others.
- Detailed history day by day, with pictures, links to albums, interviews.
- More than thousand pictures of the Beatles, people close to them, magazine covers.
- Various information on the Beatles, their films, interviews, concerts, bootlegs.
- Popular discussion forum where you can meet Beatles fans from all over the World.
Today in Beatles history
1970, February 25 - De Lane Lea Sound Centre, 75 Dean Street. Ringo tapes `You Always Hurt The One You Love'.
Beatles news
2018, February 18 - Beatles news updates
2018, February 18 - John Lennon news updates
2018, February 18 - Paul McCartney news updates
2018, February 18 - Ringo Starr news updates
2018, February 18 - George Harrison news updates
2018, January 30 - Beatles news updates
2018, January 30 - John Lennon news updates
2018, January 30 - Paul McCartney news updates
2018, January 30 - George Harrison news updates
2018, January 30 - Ringo Starr news updates

Random links from links section and advertisements

- BeatleMix - tune-in BeatleMix Radio, a live 24 hour broadcast of all Beatles, all the time! Hear all of your favorite songs by the Fab 4, both as a group and solo
- BootlegZone - one of the biggest Beatleg database on the web, featuring high quality scans, cross-referenced tracklistings and songs versions, etc. Also allows you to post reviews of bootlegs, post trade ads, manage your bootleg collection and send tracklistings online
- BeatleLinks.net - your Beatles Internet resource guide with over 2000 links, music forums, ratings
- Sir George Martin
- Buy The Beatles Comlete Scores

Site statistics
Unique visitors in February: 65227; since November 2004: 15336506; during 4 years since Nov. 2000 until Nov. 2004: 175000