Welcome!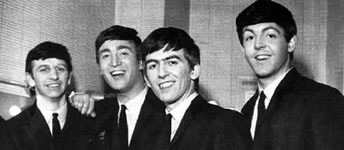 Please use left menu to navigate through the site in order to access:
- Comprehensive UK and US discographies with album covers, additional information, reviews and comments.
- Complete song index with the lyrics. Different takes, demo and live versions, unreleased songs and songs for others.
- Detailed history day by day, with pictures, links to albums, interviews.
- More than thousand pictures of the Beatles, people close to them, magazine covers.
- Various information on the Beatles, their films, interviews, concerts, bootlegs.
- Popular discussion forum where you can meet Beatles fans from all over the World.
Today in Beatles history
1964, April 23 - Thornbury Playing Fields, Isleworth, Hounslow, Middlesex. Shooting for `A Hard Day's Night': `Can't Buy Me Love' sequence. Morning: the Beatles arrive. John leaves before filming is complete to attend the Foyle's literary luncheon. After John leaves, shooting of sequence with man admonishing the Beatles after `Can't Buy Me Love' scene. 1.00pm approx. End of shooting. The Beatles leave.
Beatles news
2017, April 16 - Beatles news updates
2017, April 16 - John Lennon news updates
2017, April 16 - Paul McCartney news updates
2017, April 16 - George Harrison news updates
2017, April 16 - Ringo Starr news updates
2017, March 26 - Beatles news updates part 1
2017, March 26 - Beatles news updates part 2
2017, March 26 - John Lennon news updates
2017, March 26 - Paul McCartney news updates
2017, March 26 - George Harrison news updates

Site statistics
Unique visitors in April: 93704; since November 2004: 14449061; during 4 years since Nov. 2000 until Nov. 2004: 175000