Beatles history
| Category | Description | Link |
| --- | --- | --- |
| Year by Year | One or several years on a page. History includes interviews, album links. | |
| Month by Month | One month on a page. History includes pictures, interviews, album links. | |
| Day by Day | See what happend on a specific day and month in different years. History includes pictures, interviews, album links. | |
Today in Beatles history
1958 - The Quarry Men perform at George's brother Harry's wedding reception at 25 Upton Green in Speke, Liverpool.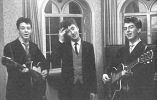 1961 - Performance in the evening at the Cavern Club in Liverpool with the Strangers and Mark Peters and the Cyclones.
1962 - Night. Performance at the Star Club.
1964 - The first signing of an actor for NEMS Enterprises: John Gillespie. Brian agrees on British contracts for the New Christy Minstrels, including an appearance on the `Sunday Night at the London Palladium' TV show.
1964 - Brian buys a house at 24 Chapel Street, London.
1966 - Studio 2. 7.00pm-1.00am. Recording: `When I'm Sixty-Four' (overdub onto take 2, tape reduction take 2 into takes 3, 4). Producer: George Martin; Engineer: Geoff Emerick; 2nd Engineer: Phil McDonald. Recording of vocal harmonies and bells for `When I'm Sixty-Four'.
Read the interview on this day
1966 - Brian writes to Wendy Hanson, accepting her departure as his personal assistant.
1967 - `Hello, Goodbye' number 1, 3rd week (UK New Musical Express chart).
1968 - Avant-garde festival, `Alchemical Wedding', at the Royal Albert Hall. John and Yoko appear, coming out a white sac.
1968 - The 6th Christmas Record is sent to the Fan Club.
1969 - `The Wedding Album', 2nd week in the ranking (Billboard).
1969 - End of John and Yoko's stay at Ronnie Hawkins's farm.
1995 - 23.10-24.10. TVN broadcasts 5th part of `The Beatles Anthology' in Chile.
Help needed
If you have any questions, suggestions or events that aren't in this database please feel free to post. Your help is very appreciated!