Beatles history
| Category | Description | Link |
| --- | --- | --- |
| Year by Year | One or several years on a page. History includes interviews, album links. | |
| Month by Month | One month on a page. History includes pictures, interviews, album links. | |
| Day by Day | See what happend on a specific day and month in different years. History includes pictures, interviews, album links. | |
Today in Beatles history
1957 - Performance at the Conservative Club in the New Clubmoor Hall in Norris Green, Liverpool.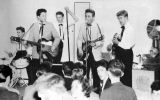 1961 - Performance at noontime in the Cavern Club in Liverpool.
1962 - Cavern lunch session: The Beatles. Evening: Concert at the Tower Ballroom, New Brighton.
1962 - 12.20pm. Saint James's Church Hall. Audition before BBC producers for evaluation of television potential. Failed.
1963 - `Please Please Me' LP number 1, 29th week (UK Record Retailer chart).
1963 - Concert at the City Hall, Newcastle (`The Beatles Autumn Tour').
1963 - US TV broadcasts the Bournemouth Winters Garden concert (filmed 16 November).
1964 - US single release: `I Feel Fine'/`She's A Woman'. US LP release: `The Beatles' Story'.



1964 - Wembley TV Studios, Wembley, Middlesex. Recording performance for `Ready, Steady, Go!'


1965 - Harry Moss cuts the stereo version of `Rubber Soul'.
1965 - Twickenham Film Studios, London. Shooting of clips for `I Feel Fine', `Ticket To Ride', `Help!', `Day Tripper', `We Can Work It Out'.
1967 - George session for `Wonderwall' film. Recording: sound effects; `India', `Swordfencing' (both working titles). Classical musicians.
1968 - `Hey Jude' number 1, 9th and last week, 13th week in the Top 30 (Billboard).
1968 - `Rolling Stone' magazine No. 22 issued with John Lennon interview.


Read the interview on this day
1989 - Paul's concert in Los Angeles (Get Back Tour).
1995 - 3rd and last part of `The Beatles Anthology' TV documentary is aired by ABC-TV in USA. Chile gold certification for CD `Anthology 1' (15000 copies sold between 20.30, Tuesday 21, and midday, Thursday 23, November).
Help needed
If you have any questions, suggestions or events that aren't in this database please feel free to post. Your help is very appreciated!