Beatles history
| Category | Description | Link |
| --- | --- | --- |
| Year by Year | One or several years on a page. History includes interviews, album links. | |
| Month by Month | One month on a page. History includes pictures, interviews, album links. | |
| Day by Day | See what happend on a specific day and month in different years. History includes pictures, interviews, album links. | |
Today in Beatles history
1959 - Opening night of Mona Best's (Pete's mother) new club `Casbah Club', 8 Heyman's Green, West Derby, Liverpool. Show by the Quarrymen (John, Paul, George, Ken Brown).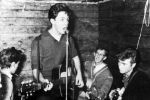 1961 - Performance at noontime at the Cavern Club.
1963 - Concert at the Odeon Cinema, Southport, with Tommy Quickly and Gerry and the Pacemakers.
1964 - `A Hard Day's Night' LP number 1, 6th week (UK Record Retailer chart).
1964 - Billboard publishes that the sales of guitars have reached its highest point since 1957, when Elvis appeared.
1965 - Live Concert at the Hollywood Bowl, 2301 North Highland Avenue, Los Angeles, California, USA (1st performance). Recording: `Introduction' (by KRLA disc-jockeys); `Twist And Shout'; `She's A Woman'; `I Feel Fine'; `Dizzy Miss Lizzy'; `Ticket To Ride'; `Everybody's Trying To Be My Baby'; `Can't Buy Me Love'; `Baby's In Black'; `I Wanna Be Your Man'; `A Hard Day's Night'; `Help!'; `I'm Down'. Producer: Engeman (Christian name unknown); Engineer: Hugh Davies; 2nd Engineer: not assigned. Due to technical defects, nothing of this was included in `The Beatles At The Hollywood Bowl' LP.
Read the interview on this day
1966 - Morning. Dizz Gillespie disappears with personal briefcases of Brian and Nat Weiss.
1966 - Concert at the Candlestick Park, San Francisco. Last Beatles concert. Tony Barrow films and records the concert. Support act: the Ronettes.


1968 - Trident Studios. 7.00pm-6.00am. Recording: `Dear Prudence' (overdub onto take 1). Producer: George Martin; Engineer: Barry Sheffield; 2nd Engineer: unknown. Visits at the studio: John (Paul's cousin), Jackie Lomax.
1971 - Great Hall, Alexandra Palace, London. `Art Spectrum', modern art exhibition. 5 films of John and Yoko are screened: `Cold Turkey', `The Ballad Of John And Yoko', `Give Peace A Chance', `Instant Karma!', `Up Your Legs Forever'.
1983 - Studio 2. Show `The Beatles At Abbey Road' (3 times).
Help needed
If you have any questions, suggestions or events that aren't in this database please feel free to post. Your help is very appreciated!