UK albums
Covers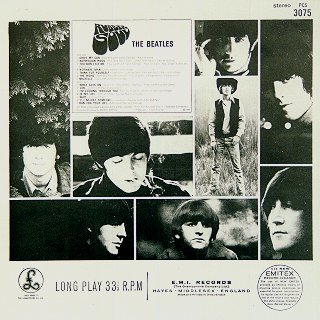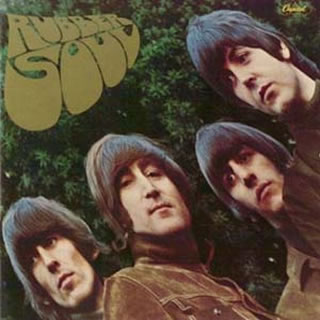 Additional information
Label
Parlophone
Catalogue No.
PCS 3075 (Stereo)
PMC 1267 (Mono)
CDP 746 440 2 (CD)
Release date
3rd December 1965
30th April 1987 (CD)
Total time
34:55
U.K. Album Chart Detail
Entry Date: 11th December 1965
Highest Position: 1 ... for 9 weeks from 25th December 1965
Weeks in Chart: 42 + 4 from 9th May 1987 (CD release, reached no.60) + 1 week 25th April 1998 (No.62)
Songs recording date and information:
Drive My Car - Recorded 13th October 1965 in 4 takes. Final mix - take 4
Norwegian Wood - Recorded 12th October 1965 - 1 take. Remake recorded 21st October 1965 in 3 takes (Takes 2-4). Each take was different and complete (and should be sought out !!) ... Final mix - take 4
You Won't See Me - Recorded 11th November 1965 in 2 takes. Final mix - take 2
Nowhere Man - Recorded 21st October 1965 in 2 takes. Remake recorded 22nd October 1965 in 3 takes (take 3-5). Final mix - take 4
Think for Yourself - Recorded 8th November 1965 in just 1 take. Final mix - take 1
The Word - Recorded 10th November 1965 in 3 takes. Final mix - take 3
Michelle - Recorded 3rd November 1965 in 2 takes. Final mix - take 2
What Goes on --Starkey Recorded 4th November 1965 in 1 take. Final mix - take 1
Girl - Recorded 11th November 1965 in 2 takes. Final mix - take 2
I'm Looking Through You - Recorded 24th October 1965 - 1 take. Re-make recorded 6th November 1965 in 2 takes (Takes 2-3). Re-remake recorded 10th November 1965 - 1 take (Take 4). Overdubs added 11th November 1965 onto take 4. Final mix - take 4
In My Life - Recorded 18th October 1965 in 3 takes. Recorded overdubs on 22nd October 1965 onto take 3. Final mix - take 3
Wait - Recorded 17th June 1965 (during the "Help" sessions!) in 4 takes then discarded for inclusion. Overdubs made 11th November 1965 five months later, when one more track was required to fill this album! Final mix - take 4
If I Needed Someone - Recorded 16th October 1965 - 1 take (Backing track only). Further recording 18th October 1965, overdub of vocal onto take 1. Final mix - take 1
Run for Your Life - Recorded 12th October 1965 in 5 takes. Final mix - take 5
Rubber Soul represented the last time the Beatles would release two albums of wholly new material in one year, breaking the die cast over three successive and sensational years. And it was the last time the group worked with engineer Norman Smith. Smith had joined Abbey Road ub 1959 as a tape operator, quickly progressin to be balance engineer. Now it was time to move on and up. In February 1966 he was promoted to the A&R depatment at EMI, Manchester Square which led to his first role as record producer. In January 1967 he was offered an up and coming group of young Londoners called the Pink Floyd. The rest, as they say, is history. "We all got on so well," says Smith today of his relationship with the Beatles. "They used to call me 'Normal' and, occasionally, '2dBs Smith' because on a few occasions I would ask one of them to turn his guitar amplifier down a couple of decibels. But Rubber Soul wasn't really my bag at all so I decided that I'd better get off the Beatles' train. I told George [Martin] and George told Eppy [Brian Epstein] and the next thing I received a lovely gold carrriage clock inscribed 'To Norman. Thanks. John, Paul, George and Ringo'."
As a producerm Smith's path did continue to cross with the Beatles' from time to time and when, in 1972, under the bane if Hurricane Smith he scored a number one single himself in America [ Cashbox chart] with 'Oh, Babe, What Would You Say?' John And Yoko Lennon were the first to send a congratulatory telegram.
Another reason for Smith's promotion was that the EMI A&R department had been depleted in August 1965 by the sudden departure of George Martin, Ron Richards and John Burgess, all of whom - together with ex-EMI then Decca staff producer Peter Sullivan - left to form an independent production company, Associated Independent Recordings (London) Limited, better known as AIR. With Martin no longer on the staff, EMI could have allotted another producer to work with the Beatles but this did not happen. The partnership was too successful to break and neither Brian Epstein nor the Beatles would have stood for such an action.
But what of the LP Rubber Soul ? George Martin neatly sums it up. "It was the first album to present a new, growing Beatles to the world. For the first time we began to think of albums as art on their own, as complete entities." The title was the cause of much speculation at the time, and its origin has never been preperly revealed. This author received an unexpected insight into this very subject when listeing to the archive tape of the Beatles recording I'm Down , 14 June 1965. In between takes, particularly on and two, Paul frequently repeated the words "Plastic soul, man, plastic soul" and then, for the benefit of the other Beatles, and now history, he went on to explain that it was a phrase coined by black musicians to describe Mick Jagger.
Rubber Soul was one of the highlights of John Lennon's career, the sort of peak with Paul McCartney was to achieve a few months later with Revolver . And the single We Can Work It Out / Day Tripper was one of the highlights of the group's career, a record so strong on both sides that, for the first time, it was officially released as a double A-side. It sold more than a million copies in Britain alone and was yet another number one success around the world.
- Mark Lewishon "The Beatles Recording Sessions"